Multi-Functional Semiconductor Laser Therapy Instrument
Product Code:

Semiconductor Laser Therapy Instrument

Availability:

In Stock


| | |
| --- | --- |
| ltem | Description |
| Laser medium | GaAlAs Semiconductor |
| Laser wavelength | 650nm,808nm |
| Laser output power | 5mW for 650nm laser 180mW for 808nm laser |
| Environment temperature range | 40-55℃ |
| Relative humidity | 10%-100% |
| Atmospheric pressure | 86kpa-106kpa |
| Probe A | 11 laser beams are 650nm red laser: 4 laser beams are 808nm invisible laser output power: 775mW |
| Probe B | 808nm invisible laser beam, output power: 180mW |
| Laser penetration | 3~5cm |
| Output frequency under Pulse mode | 0.5sec |
| Size | 310×250×180mm |
Features of Low level laser treatment
1. The low level laser treatment is without trauma and damage. The divergence angle of laser is ranged from 35 degree to 45 degree, including the refraction and diffuse refraction accurred in thie tissue. The effective diameter is 5 to 10 times bigger than the light spot when the laser beam is with vertical irradiation.

2. Compared with the ultraviolet light, in frared light and microwave treatment, the low level laser is safe and beneficial.

3. Compared with the He-Ne laser and Argon laser, the performance is stable, and can be used without high voltage. So the life span is longer, which can avergely reach to 10,000 hours with trovle-free.

4. Adopt low level laser of 650nm and 808nm, Especially the 808nm laser has strong penetration, which could act on the tissue 5 to 7cm under the skin to relieve the pain and repair the injured tissue.

5. The low dosage laser treatment could act on inflammation, congestion and edema. After the power is incread, the therapy effect is more effective on the injured tissue, sports injury and rehabilitation.
MECHANISM OF ACTION
1.Accelerating the blood circulation
The laser directly irradiates the lesion part which blood flow is decreased, or irradiate the sympathetic ganglion which dominate this range. It could supply sufficient blood and nutrition, in order to accelerate the metabolism and relieve symptom.

2. Diminishing the inflammation quickly
The laser irradiates the lesion area, to enhance the activity of phagocyte and increase the immunity, and diminish the inflammation quickly.


3. Relieving the pain
The injured part could release the substance similar with morphia after the laser irradiation. The irradiation also could reduce the conduction rate, power and impulse frequency to relieve the pain quickly.

4. Accelerating the tissue repair
The Laser irradiation can accelerate the new blood vessel growth and increase the growth of the granulation tissue, to accelerate the protein synthesis. Blood capillary is one of the basic elements of granulation tissue, which is the precondition of wound healing. Organizing much more oxygen supply, to help speed up the metabolism of various tissue repair cells and mature, to accelerate the production of collagen fibers, deposition and cross-linking.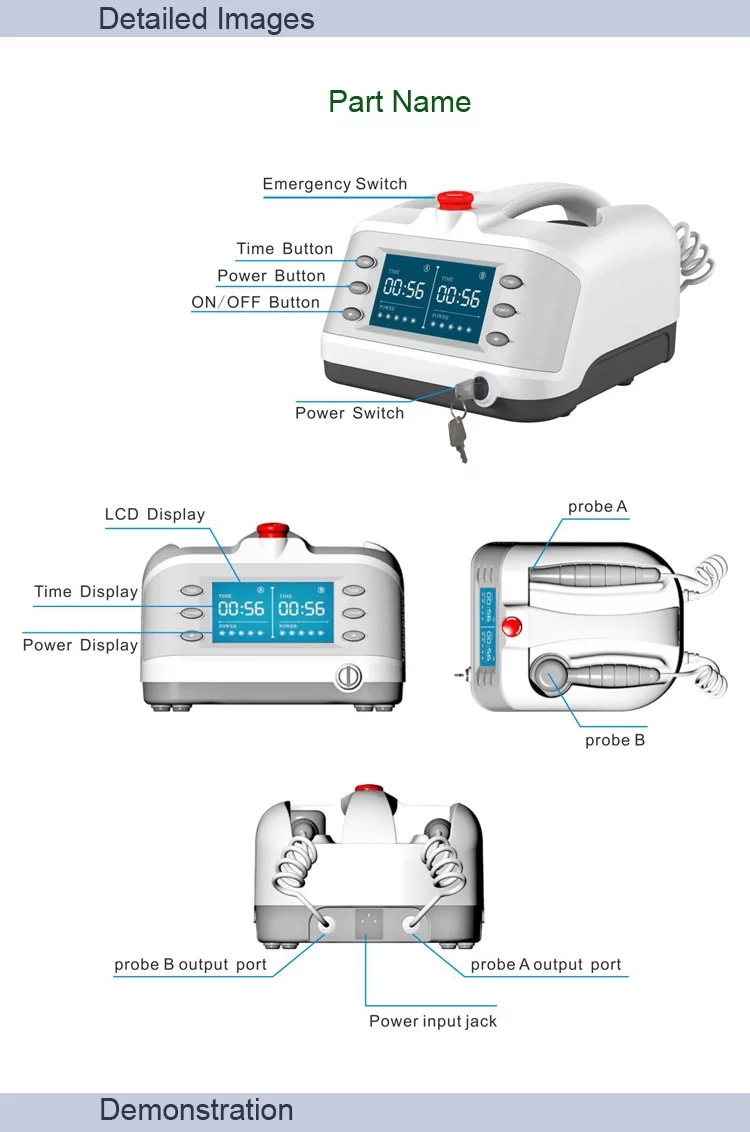 PAIN RELIEF

KNEE ARTHRITIS

RHEUMATOID ARTHRITIS

ATHLETIC SYSTEM INJURIES

SOFT TISSUE INJURIES

DIMINISHI NFLAMMATIONS

WOUNDS&ULCERS ACUPUNCTURE

SPORT INJURIES/SPRAIN

REHABILITATION THERAPY
Properties
Brand Name
Singularity
Type
Physiotherapy Machine
Model No
Semiconductor Laser Therapy Instrument
Packing size
22X22X18CM
Color
White
G.W(KGS)
4.0KG
Origin
China (Mainland)
Warranty
1 year
OEM
No